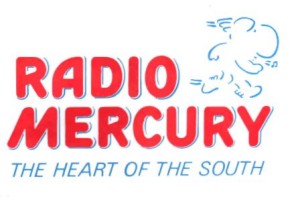 Radio Mercury began broadcasting to Surrey and West Sussex in the UK on the 20th October 1984. The station broadcast from studios at Broadfield House, Crawley on 1521 kHz (197 metres) MW and 103.6 FM (97.5 FM in Horsham). The first presenter on air was Ed Stewart. Other early presenters included Tony Myatt, Geoff Aspel (Michael's brother), Peter Young, Pat Sharp, Howard Pearce and Russ Williams. Check out our audio page here for many recording of the early days of Radio Mercury. On YouTube there is an ITN news story here about ILR in 1984 which features Radio Mercury before it launched.
The original Mercury logo includes a small man running along and whistling. He was known as the Mercury Man and featured as one of the early competitions where you could win a prize if you spotted him out and about town.
Radio Mercury and Southern Sound shared some of their programmes during the early days including the Timbo Show in the evenings. This was a madcap show aimed mainly at young teenagers but was listened to by all ages! Timbo (Tim Lloyd) alternated presenting the show for about six months at a time swapping from Southern Sound to Mercury. He continued doing that for a few years before helping with the launch of BBC Essex. Three pieces of production music where alternated to fill in at the end of the commercial breaks as the length of break on each station would never match. You can hear those tracks on our audio page as well as Timbo's own jingles done by various people including the Back Room Boys in Brighton. And who can forget the sound effects for the quiz questions. Does the "Screaming Loo" ring any bells? Click here to see the Timbo Poster.
A plan to group ILR stations together and BBC local stations together meant a change in the FM frequency. On the 22nd October 1985, Mercury moved from 103.6 to 102.7 FM.
In 1990, Radio Mercury invested heavily in A.I.R. (Airport Information Radio). This was an AM station providing Flight & Travel News for passengers arriving by car at London's Heathrow & Gatwick Airports. The station didn't last for very long as it suffered from a lack of advertising and audience figures gauged inaccurately. For more information on A.I.R. please click here.
On Radio Mercury, some of the original jingles were used along side some new "Your Kind of Music" cuts during the early 1990's when they joined with County Sound (Guildford). See our County Sound info page for more details. At this time Mercury's AM service became County Sound Radio with TM Century jingles.
In 1995 the County Sound name was dropped to form Mercury Extra. Radio Mercury on FM finally stopped using the David Arnold theme and both AM and FM services had Jam jingles with the Alfasound singers. Mercury on 102.7 became Mercury FM.
Mercury became part of the Daily Mail Group in the late 90's and Mercury Extra on AM became Breeze. The group also took ownership of KFM in Tonbridge and re-branded it as Mercury FM (which was then sold to the Kent Messenger Group and became KMFM).
The Essex Radio Group itself was taken over by GWR. Mercury FM became a "Today's Better Music Mix" station. Breeze became Classic Gold Digital Breeze 1521. Some time later the AM service closed completely due to low listening figures although it continues as Gold Radio on other frequencies around the country.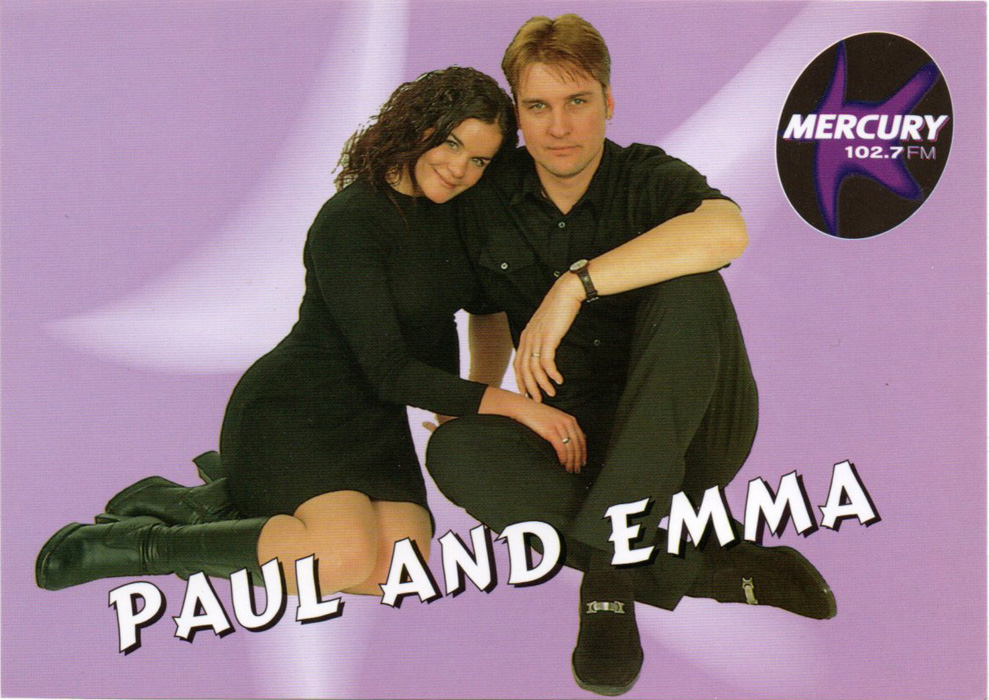 In May 2005 the Capital Radio Group and the GWR Group merged to form GCap Media. Global Radio was formed and bought Chrysalis Radio. Then in 2008 it bought GCap Media and since then then GMG Radio (in 2012). The station kept the Mercury name until the 25th of July 2010. The transmitters then carried programmes from Heart in Brighton (formally Southern FM) with local adverts for the Crawley/Reigate area.
Click here for the Heart Crawley website.
Click here for the Gold Radio website.