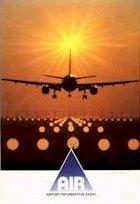 To Listen is to Know
AIR (Airport Information Radio) began broadcasting on the 25th June 1990 with live presentation from 5am-11pm 7 days a week on 1584AM. The service reached motorists within 10-12 miles from either London Heathrow or London Gatwick Airports. Outside of the 'Live' presentation was a pre-recorded service with basic airport information.
The Heathrow service was originally a separate operation, based on an industrial estate on Green Lane in Hounslow. Will Jackson was Manager, and the presentation team included Val French (ex-County Sound), Paul Miller (now at Radio Solent), Lois Lane (now voice-over), Roger Stamp (now freelance) and Phil Jay (Delta and voiceover). When the two services merged, Will Jackson and a few others ended up presenting separate programmes from "The Shed" (which became the news room) at Mercury's original home, Broadfield House.
Presenters contributing to A.I.R. from Gatwick included Rick Easter, Peter Stuart & Dave Heskitt. Pre-recorded announcements on carts were voiced by Tony Myatt, John Scragg & Danny Pike. Bill Codey Supervised the day to day running. If you were also involved then please let us know.
From the 18th November 1991, the live presentation was dropped in favour of a taped service. This was updated every 15 to 20 minutes by Bill Cody and Will Jackson with the hours of operation restricted. All other staff were released.
A radical repositioning was considered for AIR with a totally new format planned including the introduction of music. However it was not to be and the station closed down early in 1992.
Flight news, Road News, Terminal information, Currency Exchange rates etc. were broadcast in 10 minute cycles. This was later updated and a complete hour clock was introduced providing more information and lighter subjects such as in flight film reviews.
Original advertisers included: Body Shop, Tie Rack, W H Smith, Harrods, Alamo Rent a Car, Burger King, The European Newspaper and Sterling Hotels. The only Airline brave enough to buy airtime was South African Airways.
Ad rates (30 seconds) were: Heathrow £21, Gatwick £15, ads on both stations £36.
Ad rates (60 seconds) were: Heathrow £38, Gatwick £27, ads on both stations £65.
Campaign discounts were: 3 months 15% 4 months 30% 6 months 43% 12 months 57%
Shown below: A sticker which resembles the road signs used to promote A.I.R. Also a photo of A.I.R. Studio 2 (Gatwick service). This later became the studio for the Heathrow service when the location moved from Heathrow to Mercury's HQ in Crawley.