In Tune with London
Capital Radio was one of the UK's earliest ILR stations to come on air. It was launched on the 16th October 1973 and served London and the surrounding areas. It was originally heard on 539 metres MW and 95.8 VHF before the MW frequency moved to 194 metres (1548 KHz) during the seventies.
Some of the early presenters included Kenny Everett, Brian Hayes, Michael Aspel, David Symonds, Dave Cash, Gerald Harper, Graham Dene, Tony Myatt, Roger Scott, Mike Allen, Nicky Horne, Gary Crowley and Peter Young. The very first voice heard on air was Richard Attenborough
See Roger Piper's website for more info and photos of the early days of Capital here
Click below for the IBA Fact Sheet from 1976 or the A-Z of Capital leaflet from November 1982: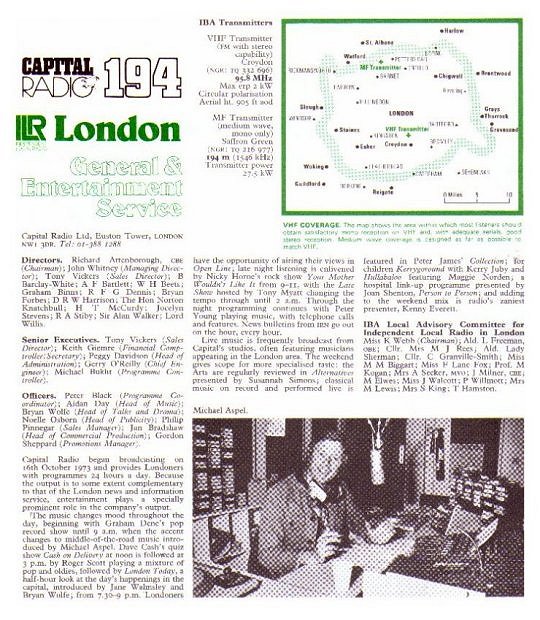 Read two excerpts from the Capital Fun Book here:
Engineering the sound of success
Jingle Bells.
In 1988 the station split with Capital Gold on the MW frequency and Capital FM on 95.8. Classic Gold was acquired by GCap media in 2007 and merged it with Capital Gold to form Gold Radio. Capital used to broadcast from the Euston Tower but moved to Leicester Square during the 1990's. At the end of September 2023, the medium wave transmitter was shut down. This was due to running costs and the small number of listeners using the old AM services.
Click here for the Capital FM website.
Click here for the Gold Radio website.
There are various other Capital Radios around the world and one of them used some of the original Capital jingles as well as a few new versions of the same tune. This was Capital Radio 604 in South Africa. Although the station is not currently on the air, they do have a website which includes a lot of the jingles. Click here for the Capital 604 website.