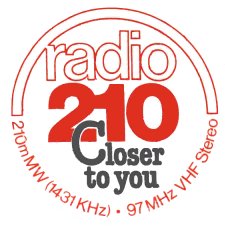 Closer to You
210 (Two one oh), Thames Valley began broadcasting in the UK to the Thames Valley and North Hampshire on the 8th March 1976. It was originally heard on 210 metres MW (1431 kHz) and 97.0 FM. In those days the radio tuning scale on MW was marked in metres hence the station name of "Two one oh". The station later became Radio 210.
On New Years day 1987 a new transmitter came on air to serve the North Hampshire area more clearly. This is based at Hannington on 102.9 FM. During the 90's a third FM transmitter was set up to serve Henley on Thames on 103.4.
Later, both Radio 210 and 2CR in Bournemouth became part of a group called "Consolidated Radio Holdings". Initially, the 1431 AM frequency was only used as a split service during Saturday afternoons for the Sports slot. Around 1990, the station was known as 210 FM when it became part of the GWR group. At that time, TM Century jingles were used and the AM service was named Classic Gold, a name which GWR had already used on it's other AM services.
There were some major changes on the FM service which meant the departure of Dave Nelson and Brian Pithers. Jeff Brown took over both of their slots with a "better music mix" on Saturday and Sunday evenings. He received a barrage of abusive phone calls from irate listeners who were not happy with the programme changes! Eddie Shaw was another presenter to go at around this time.
Classic Gold was an automated service with live input from Reading between 6 and 10AM. Graham Ledger presented during weekdays and Jeff Brown at weekends. Occasionally, Jeff would present on the FM service until 1AM, sleep in the studio and present the breakfast show the next morning on Classic Gold! The Overnight Express was relayed while Jeff was sleeping. The decision to have a live breakfast on Classic Gold was so sudden that someone had to go into Reading to buy some CDs for the show! Also, some were even loaned by presenters.
Around 1993, 210 FM was renamed 2-Ten FM. Global Radio have since taken over the station and rebranded it as Heart Thames Valley. An additional AM transmitter was setup for the North Hampshire area on 1485 AM. Classic Gold was rebranded Gold Radio when it was taken over by Capital in 2007. Gold Radio then became Smooth Radio but the service on both 1431 and 1485 AM closed down on 15/5/2015 with no closedown announcement.
More Radio 210 nostalgia including audio and photos can be found on this excellent site: http://www.radio210.co.uk/