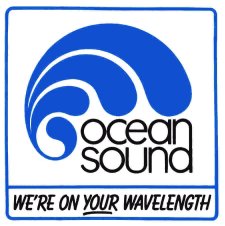 Hear The Difference All Around
Ocean Sound replaced Radio Victory in the UK on the 12th October 1986. For more information on Radio Victory please click here. For very in depth information on the run up to launching Ocean Sound, read Tony Harding's article on the Transdiffusion website here.
Initially there were two Ocean Sound services. The East service (serving Portsmouth and surrounding areas) on 1170 kHz MW / 97.5 FM and the West service (serving Southampton and surrounding areas) on 1557 kHz MW / 103.2 FM.
At 10am on Sunday the 6th December 1987, the service was extended to Winchester and the surrounding areas. This was called The Light FM and could be heard on 96.7. It had separate programmes from 6am-2pm and then carried the same output as the East service. Sometime after the 5-9pm show was also separate.
At 10am on December 4th 1988 the West FM service on 103.2 became Power FM. Also the AM frequencies were split from the FM and were named the Gold AM (Gold commenced at 9am). A dispute then occurred between Ocean Sound and County Sound over who had the right to use the name Gold AM. This resulted in County Sound renaming their AM service to First Gold Radio.
Later, the Southern Radio Group (Southern Sound Brighton) took over and transformed the FM services (Ocean Sound & The Light FM) to Ocean Sound Classic Hits. The programming was the same as Southern Sound FM except for breakfast. The AM service soon became South Coast Radio and broadcast from the Southern Sound studios in Brighton. Southern Sound and Ocean Sound later became Southern FM and Ocean FM. The Southern Radio Group was taken over by Capital Radio in 1994 and South Coast Radio was rebranded to Capital Gold.
In May 2005 the Capital Radio Group and the GWR Group merged to form GCap Media. In 2007 Capital Gold was renamed to Gold Radio. GCap Media, Chrysalis Radio, GCap Media and GMG Radio merged to form Global Radio in October 2008. As a result of this, Power FM was rebranded Galaxy South Coast, then Capital South Coast and then 103.2 Capital FM. In 2009 Ocean FM became Heart Hampshire which has since merged with Heart Dorset & New Forest to become Heart South Coast (since 2010). In April 2019 103.2 Capital FM was merged with Capital Brighton with networked programmes from London.
Click here for the Heart South Coast web site.
Click here for the Capital FM South Coast web site.
Click here for the Gold Radio web site.